Keratin Bonded Hair
HE04 Pre Bonded I TIP HAIR EXTENSIONS
ID: HE04 Pre Bonded I TIP HAIR EXTENSIONS
Name: Human Hair Pre-Bonded Keratin I Tip Hair Extensions

Category:Keratin Bonded Hair

Shape: Stick tip I-TIP
Other Sculpt : Perm, Dye, Cut, you can use micro ring fix it yourself, or ask your hairdresser to help
In usally we recommend use 150gram or 200g for a full head,but this can vary depending on how thick you'd like your hair to look
Remy Human Hair extensions can last 6-12 months in good hair care .
Material : 100% Real Human Hair
Easy to DIY, Easy to apply and remove
Qty: 100strands or 50s for you best choose
SHARE: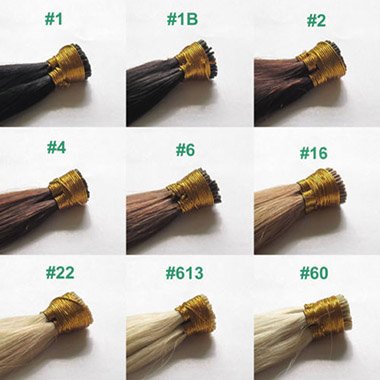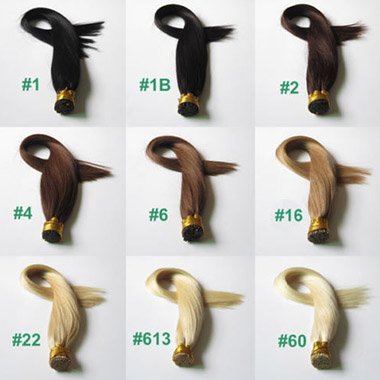 1. All of our human hair extensions are made of 100% remy human hair.
2. Pre-Bonded Stick I Tipped hair extensions can be easily remove without any damage to your own hair.
3 .Can be washed, curled, dyed, straightened, Tangle Free,Silky Soft & thick healthy end
4.Pre Bonded Stick tip hair is also sometimes called I-tip extension
5.I Tip Hair Extensions are individual hairs that are bonded together on the ends by a keratin protein glue of I shape hair
Pre-bonded stick I tipped remy human hair extensions information
I tip hair extensions can be styled as normal and it will lie perfectly straight and will blend with your own hair to create a glamorous look you've always wanted

Keratin is the safest,natural bonding agent and will not cause the slightest damage to your natural hair
It can easily be removed by using keratin remover.
Stick I tip Hair aslo can be applied by micro rings ,silicone rings with plier and needle.
It can last several month and can be reused in most of cases.
Length and Pake:
18Inch 1gram per strands,100gram one pake 100Strands
20Inch 1gram per strands,100gram one pake 100Strands
22Inch 1gram per strands,100gram one pake 100Strands
24Inch 1gram per strands,100gram one pake 100Strands
18Inch 1g/s 50gram one set
20Inch 1g/s 50gram one set
22Inch 1g/s 50gram one set
24Inch 1gs 50gr one set
Application Process:
Before application, we recommend deep clean client's hair without using conditioner or any oily base product.

1) Twist a small piece of your own hair for attaching the hair extensions.

2) Let this small piece of your own hair go through the plastic loop.

3) Hold the micro ring and pull the big end of the plastic loop until your own piece of hair can go through the micro ring. At this moment, the plastic loop should be completely free from the micro ring and hair extensions.

4) Pull the micro ring up to about 0.8cm to 1cm from scalp.

5) Grip the micro ring by pliers and the hair extensions is now firmly applied on.

6) After doing the middle clip, you can then attach the two end clips. There you are - more hair in just a snap!