Keratin Bonded Hair
HE01 Pre Bonded U TIP HAIR EXTENSIONS
ID: HE01 Pre Bonded U TIP HAIR EXTENSIONS
Name: Human Hair Pre-Bonded Keratin Nail U Tip Hair Extensions

Category:Keratin Bonded Hair

Extension Type: Pre-bonded keratin/U-Tips human hair extensions
Hair Length: 16inch 18inch 20inch 22inch
Extension Weight: 1g/Strand, 100s/pack, in total 100g/pack
Hair Type: Double drawn remy Human hair
Hair Grade: 7A High quality
SHARE: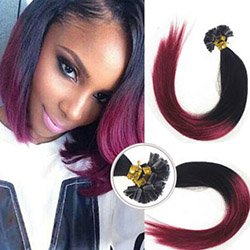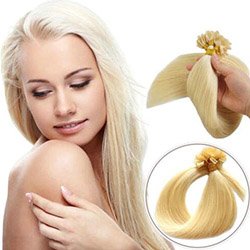 1. 100% High Quality Human Hair Pre-Bonded Keratin Nail U-Tip Human Hair Extensions Silky,Soft, Tangle Free
2. Pre Bonded keratin nail u-tip hair extensions can be easily removed without any damage to your own hair.
3. Limitless Styling Possibilites Blow-drying, Straightening,Curling or Braiding - Enjoy the benefits of real human hair extensions and create your very own hairstyle
4. Italian Keratin Bonding. Extra small U-tip (nail) bondings made of high-quality italien keratine for long and gentle durability
5. Real Double Drawn Quality Hair same Length and Thick hair from Root to Ends
6. 100Strands in a package, We generally recommend buy 2-3 packes for a full head
◆ Hair Art U-tip (nail-tip) hair extensions are pre-bonded using high quality Italian Keratin to provide the strongest attachment and the longest lasting effect.

◆ Keratin is the safest,natural bonding agent and will not cause the slightest damage to your natural hair.
◆ The keratin,when melted with a Heat Connector,allows to fix the hair extensions to your own hair and therefore lengthen your hair and increase its volume .
◆ This traditional technique is popularly used by professional hairdressers.
◆ Hair Art pre-bonded u-tip hair extension adopts 100% premium remy hair as raw material.
◆ During manufacture, alignment of the natural hair cuticles is kept,which greatly reduces tangles and mimics natural hair flow, and therefore it ensures a more natural blend with your own hair.
◆ The nail tip hair extensions are dipped in high quality keratin hair extension glue at the tips.
◆ This is the safest hair bonding glue and can be removed without damaging your natural hair using keratin remover.
Integration:

The hair extensions strands can be attached by means of a heat-clamp or an ultrasonic connector. This method is particularly distinguished by their long wearing period of up to 6 months. Afterwards the strands can be removed easily using a Hair Extension Remover and special pliers.
Before application, we recommend deep clean client's hair without using conditioner or any oily base product.

1) Star sectioning client's hair from bottom to top.

2) Take on strand of client's hair and insert a template to the root to protect scalp from heat.
3) Place keratin tip hair under
4) Place fusion tool under hair and pinch smoothing for about 3-5 seconds to melt and smear glue into every hair strand.
5) Roll fused part with fingers and try to close tightly.
Removing Steps:
1) Apply few drops of remover on glued part.
2) Use pliers and pinch to break the glue part.
3) Separate keratin tip hair from client's hair. Use comb or shampoo to remove glue residue.